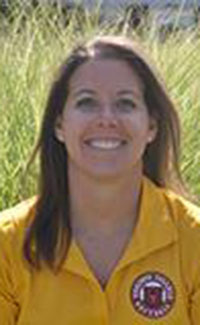 Samantha Campo is in her tenth year as head softball coach at Ursinus College.
Campo led the Bears to the Centennial Conference playoffs in 2019, their first potseason appearance in seven years. Six of her players received All-CC accolades, the program's highest total since the 2008 campaign.
Campo previously served as head coach at Gettysburg College from 2008 to 2012. At Gettysburg, Campo posted a 101-78-2 record, including three trips to the Centennial Conference playoffs and a CC coach of the year award in 2010. Her best mark came during the 2009 season, when the Bullets went 27-10-1. Those 27 wins were the second-best in Gettysburg history. She served as an assistant during the 2006-07 season, when the Bullets won the Centennial Conference championship.
During her tenure in the Centennial Conference, she has had two players named conference Player of the Year, 41 who have earned All-Centennial honors, and six who were named All-Region. In addition, four student-athletes have earned Academic All-District honors and in 2012, one player was named an Academic All-American.
The former Samantha Abrams was a standout pitcher and shortstop at McDaniel College, where she was a four-time first team All-Centennial Conference selection; she earned that honor three times as a pitcher (2001, 2003, 2004) and once as a utility player (2002). The Green Terror won league titles in 2002 and 2004 and were a robust 109-34 (.762) during her four years. Camp was named to the Centennial Conference's Silver Anniversary Team in 2018.
Campo was named CC Player of the Year in 2003 after batting .339 with four home runs and 21 RBI and was twice tabbed third team all-region. She finished her career as the conference's all-time leader in doubles (44), victories (60), strikeouts (426), and complete games (72). She posted an overall pitching record of 60-18 and was inducted into the McDaniel College Sports Hall of Fame in 2014.
Campo began her coaching career as the co-head coach at South Carroll High School before accepting an assistant position with her alma mater in 2006. She graduated from McDaniel in 2004 with a bachelor's degree in English and holds master's degrees in both exercise science and physical education and school library and media science.
Campo resides in King of Prussia, Pennsylvania with her husband, Mark, and their children, Mia and Mitchell.